Abbey 104 is the community radio station for Sherborne, Dorset, UK and the surrounding villages.
We have held a licence to broadcast on 104.7FM on your radio since 2013. We follow the guidelines and regulations of Ofcom, who grant broadcasting licences.
We are run entirely by volunteers who contribute to the costs of operating the station through their membership fees. We are also supported by business partners, who advertise with us and sponsor individual shows; through attending local festivals and fairs and through donations.
We have three Directors who undertake the day-to-day management as Officers of the station: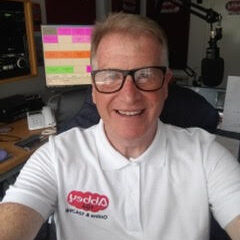 John, Sue and Bob are supported by teams of members with special responsibilities:
Programme Controller: Phil Clements
Technical Team: Phil Clements: Dan Gruner, Nathan Derrick
Education and Safeguarding: Susan Boyce
Events Coordinator: Ken Greene
Training: Susan Boyce, Nathan Derrick, Sue Hill
Advertising and Business Partners: Phil Scrase
Administration Assistant: Dave Mountain
Social Media: Cathy Briggs
Housekeeping: Ken Greene, Mike Edwards
Website: Sue Hill and Max Chorley
---