Abbey 104's New App
Introducing the all-new Abbey 104 Radio app – your gateway to a world of captivating music, engaging discussions, and local updates! With the Abbey 104 app, you can now keep up to date with everything Abbey.
Abbey 104 has teamed up with the mobile app platform Robin Road to bring you what is believed to be the first Community Radio Business App in the country. To present everything that you would like for the Sherborne community to know about you, together with other local businesses in one convenient place that is instantly available whenever and wherever required. Available on both IOS and Android.
For app-related enquiries, please contact Michael Shuster of Robin Road at michael@robinroad.uk or call 07957 576765.
For local enquiries, please contact Abbey104 atadvertising@abbey104.com
Abbey 104 Partnership Plaques
Abbey 104, takes great pride in recognising the unwavering support of its partners by presenting them with prestigious partnership plaques. These plaques not only symbolise the station's gratitude but also serve as a testament to the strong alliance between Abbey 104, its sponsors and the further community.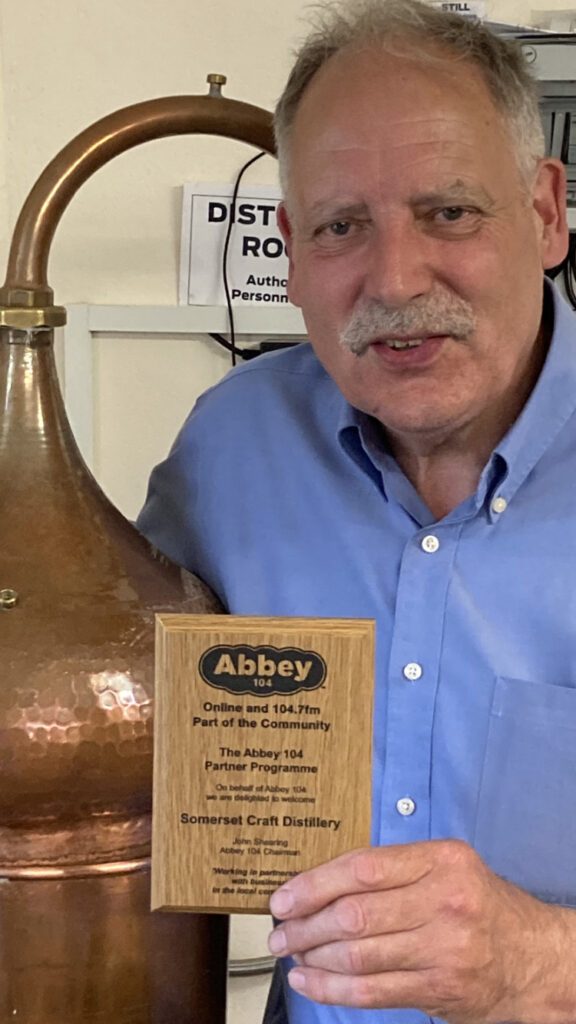 Barry Davies of Somerset Craft Distillery with the Abbey 104 Partnership plaque
We would like to thank Jack Baker of Yellow Box Solutions, Yeovil, for agreeing to become a new Business Partner of Abbey 104. Pictured John Shearing, Chairman of Abbey 104, presenting Jack with the individual Abbey 104 Partner Programme Plaque.
David Griffin of Caravan Training with the Abbey 104 Partnership plaque.
The Surestart team with the Abbey 104 Partnership plaque: Neil Rose – Owner (Left) ; Sarah Roberts – Workshop Manager & Administrator (Middle); Liam Young – Master Technician (Right)
For more information on how to start a partnership with with us at Abbey 104, visit our Business Brochure to find out how we can connect you with a broad and engaged audience or drop us an email for any further information at: advertising@abbey104.com
---